Below are a number of selected talks and interviews presented by Augusto Lopez-Claros in video format. As new ones become available they will be posted.
---
Post-COVID Recovery and the Future of Global Economic and Social Governance
– Augusto Lopez-Claros moderated this panel discussion with the participation of Laura Chinchilla, Vice-President of the Club of Madrid and former President of Costa Rica, Michael Moller, former Director-General of the United Nations in Geneva and member of the Board, Kofi Annan Foundation, Jose Antonio Ocampo, former UN Undersecretary General for Economic & Social Affairs and professor, Columbia University and Maria Joao Rodrigues, President of the Foundation for European Progressive Studies, Member of the European Parliament, and former Portuguese Minister of Employment.
This session examines measures to overhaul our system of global economic and social governance, both to respond to the immediate challenge of recovery from COVID-19 and redouble efforts to advance the 2030 Agenda for Sustainable Development.
---
Global Governance and the Emergence of Global Institutions for the 21st Century
– Augusto Lopez-Claros made a presentation of the book Global Governance and the Emergence of Global Institutions for the 21st Century (Cambridge University Press, 2020) on August 5 at the Faculty of Law of the University of Victoria in New Zealand. The event was moderated by Professor Ruby Moynihan and included comments on the book by Dr. Colin Keating, former New Zealand Ambassador in the United Nations Security Council.
---
Global Governance and the Emergence of Global Institutions for the 21st Century
– Augusto Lopez-Claros spoke at the home of Canadian film makers Mary Darling and Clark Donelly (Westwind Pictures) on March 2, 2020. An audience of several dozen friends and colleagues from the Toronto area heard a talk about the main themes presented in Global Governance and the Emergence of Global Institutions for the 21st Century (Cambridge University Press, 2020), a book he co-authored with Arthur Dahl and Maja Groff, focused on the kinds of reforms and institutional innovations which are necessary to strengthen current mechanims of international cooperation to address effectively major global catastrophic risks.
---
Equality for Women = Prosperity for All
– Television interview with Moises Naim, Efecto Naim, March 19, 2019.
---
Equality for Women = Prosperity for All
– Talk by Augusto Lopez Claros at the Institute for Future Studies, Stockholm, February 13, 2019
---
The Elimination of the Extremes of Wealth and Poverty: a Baha'i Perspective
– Talk delivered at the National Baha'i Center in Auckland, New Zealand, December 22, 2018.
---
Mapping the Way Forward: The Launch of the 2016 Doing Business Report
– Presentation at the Center for Strategies & International Studies (CSIS), Washington, DC, October 30, 2015.
---
Augusto Lopez-Claros interviewed by Cristina Manzano,
Editor, Foreign Policy (Spanish edition),
in Madrid, 20 January 2014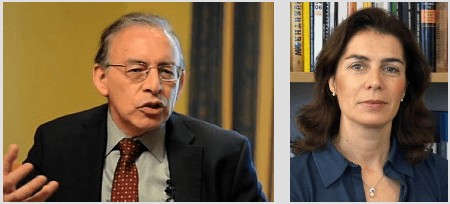 Interview Questions:
What are some of the key findings from the recently published World Bank report Women, Business and the Law 2014? (8:18 min.)

Some governments have decided to impose quotas (for instance, on the participation of women on corporate boards) as a way of accelerating the elimination of gender inequalities. But the idea has had its critics. What do you think? (5:27 min.)

Why is it taking so long to achieve full economic equality for women? (6:32 min.)

What, in your opinion, are some of the most important things that policymakers need to get right to improve competitiveness and boost prosperity? (8:26 min.)

What are some of the factors that have contributed to make corruption less of a taboo subject among policymakers? From being largely absent in the development debate in previous decades, we seem to have moved to a consensus that it matters a great deal for development. (8:27 min.)

What are the sources of corruption? (6:51 min.)

What is the impact or what are the consequences of corruption? (8:08 min.)

What can we do to deal more effectively with the plague of corruption? (8:37 min.)

What, in your view, are some of the main challenges that we face in the aftermath of the global financial crisis? (9:53 min.)

Beyond these long-term fiscal challenges, what other lessons have we learned over the past half a century about what works and what doesn't work when it comes to fiscal management? (6:20 min.)

Is the persistence of widening income disparities something that we should worry about? Why? (6:38 min.)

In the latest Doing Business Report the authors talk about the concept of convergence. What is the significance of this? (7:27 min.)
---
Doing Business in Africa 2015: Results of a Decade of Economic and Institutional Reformes
– Keynote presentation at an event organized by Casa Africa, the Spanish Ministry of Foreign Affairs and CEOE, the Confederacion Espanola de Organizaciones Empresariales, Madrid, February 24, 2015. Duration 0:04:54. Click link above or image below to see video. This video is in Spanish/Este video está en español.
---
Findings of the Doing Business Report 2014
– Presentation and interview with Augusto Lopez-Claros at the Room for Discussion session, University of Amsterdam, Netherlands, 5 December 2013.
---
Economía Global: Motores de la prosperidad en el largo plazo
– Presentación de Augusto Lopez-Claros en la Universidad Católica del Uruguay, Montevideo, 11 de abril de 2013.
---
Competitiveness Challenges for the Spanish Economy: Doing Business 2013
– Interview (in Spanish) with Augusto Lopez-Claros following his presentation at the Fundación Rafael del Pino, Madrid, Spain, 11 December 2012.
---
The Innovation Capacity Index: Factors, Policies and Institutions Driving Country Innovation
– In a presentation on 10 November 2009 in Madrid, Augusto Lopez-Claros discusses that the relative importance of various drivers of economic growth and prosperity has evolved over time and, for a growing number of countries, innovation, in its many dimensions, is emerging now as a leading factor. He also announces in the video the publication on 18 November of The Innovation for Development Report 2010–2011 by Palgrave Macmillan.
---
Presentation at United Nations Office of The Baha'i International Community
– On 16 September 2009, Augusto Lopez-Claros gave a lunch-time presentation at the United Nations Office of the Baha'i International Community (BIC) examining the global financial crisis and its implications for global governance. He addressed weaknesses in the financial sector, new challenges arising from the crisis, current mechanisms for international cooperation and future prospects for global governance.
---