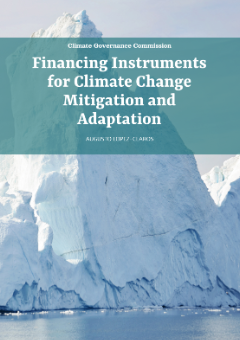 Financing Instruments for Climate Change Mitigation and Adaptation
There is broad recognition that current national emission targets are not consistent with limiting a temperature rise to 2◦C above pre-industrial levels. Indeed, it is estimated that annual global emissions need to drop by about 3 percent between now and 2030 to limit warming to this two-degree threshold. Absent mitigation of GHG emissions, global temperatures will be on a rapidly ascending trajectory through the end of this century. Given the associated damage to the global economy and its supporting ecosystems and to the natural world more generally there has been increasing emphasis in recent years in identifying policies that might facilitate climate change mitigation and adaptation. One particular area of focus has been on the financing needs associated with significant investments in various forms of infrastructure, including investments in energy efficiency and renewable energy.[pdf]
---
The Gender Equality and Governance Index: Empowering Women for the Prosperity of Nations
Gender inequality has myriad faces: archaic laws that codify sexism, male control of joint income and household assets, exclusion from governance, trafficking and violence against women, denial of education and adequate health care, and gender segregation in the work force, to name a few. The scope of inequality is vast and its costs to society are mounting.
COVID-19 has prompted new awareness around this topic, as the effects of the pandemic have exacerbated existing gender inequalities and revealed the importance of female inclusion in governance and decision-making. The evidence linking gender equality to economic and social well-being and prosperity is clear. Now more than ever, we must prioritize the role of women in fostering communities' and countries' well-being and economic health by developing policies that guard against gender discrimination. [pdf]
---
Global Governance and the Emergence of Global Institutions for the 21st Century
(Cambridge University Press, 2020)
Praise for Global Governance and the Emergence of Global Institutions for the 21st Century
"Global Governance is a book of exceptional breadth and vision, written for an unprecedented period in the historical evolution of humankind.  Defying the cynicism and myopia that often define the political culture of our times, it dares to state the obvious truth that global interdependence is an inescapable reality, and that far from naïve idealism, building effective global institutions in the 21st century is a matter of survival for our species."
Payam Akhavan, Professor of International Law, McGill University, Montreal, Canada
---
"Lopez-Claros, Dahl and Groff propose radical reforms to the charter that authorizes and rules the United Nations, and other methods of improving the current muddled state of global governance. Their case is persuasive. This book's trenchant analysis of what ails the running of the globe should be read by policymakers everywhere, and certainly by those many citizens who concern themselves with fostering a better and more functional world. Change comes slowly, but this book is a prodding catalyst."
Robert I. Rotberg, Harvard Kennedy School, author of On Governance
---
"The bold idealism championed by Lopez-Claros, Dahl and Groff is just what the planet needs, with not a moment to lose if we are to halt and reverse the trajectory of imminent disaster on which we have set ourselves. As a former Ambassador to the United Nations with first-hand experience on the UN Security Council, I applaud the vision laid out for transformational change grounded in past institutional experience."
Amanda Ellis, Executive Director Hawaii & Asia-Pacific Arizona State University, Julie Ann Wrigley Global Institute of Sustainability
---
"In this outstanding volume, Lopez-Claros, Dahl and Groff document the existential challenges facing our global institutions, from environmental decline and the failure of existing international security mechanisms to mass population flows and the crisis of sovereignty and civil society engagement. The resulting landscape might seem hopeless and overwhelming, if not for the authors' innovative, wide-ranging and thought-provoking recommendations for reshaping existing institutions to expand their relevance and effectiveness. Their ideas for updating our decades old structures include creating an international peace force, ratifying a United Nations Bill of Rights, reforming the U.N. Security Council and International Monetary Fund, establishing a civil society chamber, and beyond. Readers may not endorse every one of their suggestions, but they are invited into a fascinating game of "what if" and "why not?" It is an invitation that should not be missed."
Ambassador Donald Steinberg, Senior Advisor, Center for Strategic and International Studies
---
"This volume makes a powerful call for action to transform the international institutions that govern human affairs. Grounded in rigorous historical exploration, it offers a vision for collective courage to change what we can and reimagine what we consider outmoded and inadequate. This is the blueprint for a new global architecture."
Maria Ivanova, Associate Professor of Global Governance and Director of Center for Governance and Sustainability, University of Massachusetts Boston
---
"This path-breaking work provides important insights for practitioners and scholars struggling to understand the economic, political, and scientific forces roiling the world. As humanity seeks ways, well beyond the traditional controls available to individual nation states, to manage problems which pose enormous risks as well as rich opportunities, this book points in promising directions."
Dan Sarooshi QC, Professor of Public International Law, Faculty of Law and the Queen's College, University of Oxford; and Essex Court Chambers, London
---
Equality for Women = Prosperity for All
Gender discrimination is often seen from a human rights perspective; it is a violation of women's basic human rights, as embedded in the Universal Declaration, the UN Charter and other such founding documents. More recently we have also come to realize that gender discrimination has no basis on any credible system of moral and ethical principles and philosophy and that it undermines human prosperity and equity. It is a terrible foundation for allocating resources and creating wealth and opportunity. Why is gender inequality so pervasive? Where does it come from? Does it have cultural and religious roots? Has the world paid a heavy price over the past several hundred years for the overwhelming domination by men of government and the political process? Is gender equality a prerequisite for a more peaceful world? And what are the sorts of policies and values that will deliver a world in which being born a boy or a girl is no longer a measure of the likelihood of developing one's human potential? A look at some of these and other such difficult questions.
---
Praise for Equality for Women = Prosperity for All
"The authors of Equality for Women=Prosperity for All expose the economic wastefulness of gender inequity." "This is an ideal book for policymakers who need to understand the broader picture of gender inequality and its impact. The authors use clear and expressive language, peppering the text with examples and cases from around the world. For individuals who may not have experience applying a gender lens to development issues, this book provides insights into the many ways that the oppression of women is tied to economic stagnation and too often shielded from policy interventions by arguments of national or cultural sovereignty."
– Excerpted from Domesticity's Gross Product, a review published in the Stanford Social Innovation Review.
Alyson Colón, Associate Director at the Institute for Gender and the Economy (GATE)
Rotman School of Management, University of Toronto.
---
"A compelling and often disturbing read by two authors well read in other social sciences, religion and history – and with a fluid command of the pen. The chapter on violence against women is gripping and disturbing, its commonality amply documented. Do not overlook the chapter on culture, with its argument that incentives are what matter, and its thorough rejection of doctrinal beliefs as legitimate "cultural" traditions – a message for the Taliban and the Pope as well."
Nancy Birdsall, founding President of the Center for Global Development and former executive vice-president of the Inter-American Development Bank
---
"Based on solid research and current data, the authors speak to the hearts as well as minds to all readers who are determined to find an antidote against this virus and bring an end to an egregious breach of human rights."
Maud de Boer Buquicchio, UN Special Rapporteur on the sale and sexual exploitation of children, Former Deputy Secretary General of the Council of Europe
---
"The authors of Equality for Women=Prosperity for All offer a refreshing look at gender inequality, a subject rendered all the more painful for being both entrenched in society and exhausted by analysis over the past decades. Their unique combination of economics and literature, of a deep commitment to feminism and an extensive grasp of global politics succeeds in looking at gender relations from an unconventional perspective, and in a language that is exceptionally transparent."
Prof. Ruth Halperin-Kaddari, Chair The Ruth and Emanuel Rackman Center for the Advancement of the Status of Women Faculty of Law, Bar-Ilan University, Israel Vice-President: UN CEDAW Experts Committee
---
"The authors of Equality for Women = Prosperity for All provide fresh insights into a systemic problem expected to have been solved many years ago. Yet gender inequality remains pervasive, despite economic arguments that prove it inefficient. This is a wonderfully compelling book, combining as it does a breadth and depth of relevant statistical data with unique insights and stories that bring the subject matter to life. Beautifully written – I literally couldn't put it down!"
Amanda Ellis, New Zealand Ambassador, Geneva, Switzerland
---
"Equality for Women = Prosperity for All is a captivating read. It shines a spotlight on the discrimination and injustice that keep women and girls in the shadows of society; it shows the links between gender stereotyping and oppression, between domestic violence and political instability. It highlights how the costs of gender inequality are borne not only by the individual but by society as a whole."
Veronika Bard, Swedish Ambassador, Geneva, Switzerland
---
"Lopez-Claros and Nakhjavani's book Equality for Women is not only timely but profoundly important: its clarity and accessibility clearly sets out the reasons we simply cannot afford gender inequality to continue – at any level or on any analysis. The book's wide-ranging subjects convincingly make the case that gender inequality has and continues to cost the world too much: from the pandemic of violence against women and girls to religious and cultural totalitarianism, Equality for Women provides statistics and examples from every corner of the globe, it is truly a tour de force for anyone, not just scholars in the field, and a must-read."
Jackie Jones, Professor of Feminist Legal Studies, Department of Law
University of the West of England, Bristol, UK
---
"This book on the economic dimensions of gender inequality is full of insights on different cultures, on their selectivity in relation to women's rights and on the terrible consequences of gender inequality which result across the world. It is a thought-provoking analysis of how such inequality impacts every aspect of politics and society, whether at home, in the workplace, within particular countries or internationally."
Rt Hon Baroness Lindsay Northover, Member of the House of Lords, Former Minister in the Department for International Development, UK
---
Selected Papers
Global Financial Architecture and the International Monetary Fund
(Chapter 15 in Global Governance and the Emergence of Global Institutions for the 21st Century, Cambridge University Press, 2020)
We review the role the IMF has played over the past several decades in managing financial crises and suggest possible areas for reform. We examine the background to the 2008-09 global financial crisis and analyse many of its implications, particularly the sharp increase in the burden of public debt which was a consequence of the crisis and identify this as a source of systemic risk. We argue that our current financial system has a number of vulnerabilities which pose a major threat to financial stability and economic prosperity and could, in a crisis, interact in highly destabilizing ways with other aspects of our governance system. The UN Charter clearly introduced the concept of economic and social development as a key responsibility of the international community and two of the UN leading agencies, the IMF and the World Bank, are very much at the centre of implementing the UN's mandate in this area. We focus on the IMF because of the central role the organization plays in the management of the global monetary system, a system whose weaknesses were dramatically revealed during the 2008-09 financial crisis. We present several proposals for reforms aimed at improving the global financial architecture. [
pdf
].
The Moral Dimension of the Fight Against Corruption
(The Georgetown Journal of International Affairs, Summer/Fall 2017)
From the sidelines of economic research twenty-five years ago, corruption has now become a central preoccupation of development thinkers and policy makers. Postwar experience and insight, reflected in a growing body of academic research, highlight the causes and consequences of corruption in the development process and its remedies. [
pdf
].
Removing Impediments to Sustainable Economic Development: The Case of Corruption
(Journal of International Commerce, Economics and Policy, January 2015)
This paper examines causes and consequences of corruption within the process of economic development. Drawing on experiences and insights accumulated during the post-war period and reflected in a growing body of academic research, the paper analyzes institutional mechanisms that sustain corruption and the impact of corruption on development. It argues that many forms of corruption stem from the distributional attributes of the state in its role as the economy's central agent of resource allocation. It also addresses the question of what can be done about corruption and discusses the role of economic policies in developing incentives and institutions to reduce its incidence. [
pdf
].
Does Culture Matter for Development?
(Policy Research Working Paper, The World Bank, November 2014)
Economists have either avoided or struggled with the concept of culture and its role in economic development. Although a few theoretical works—and even fewer empirical studies—have appeared in the past decades, this paper tries to build on a multidisciplinary approach to review the evidence on whether and how culture matters for development. First, the paper reviews available definitions of culture and illustrates ways in which culture can change and create favorable conditions for economic development. Second, the paper discusses the challenges of separating the effect of culture from other drivers of human behavior such as incentives, the availability of information, or climate. Finally, the paper argues that globalization has led to the emergence of a set of progressive values that are common cultural traits of all developed economies.. [
pdf
].
Fiscal Challenges After the Global Financial Crisis: A Survey of Key Issues
(Journal of International Commerce, Economics and Policy, May 2014)
The global financial crisis and the response to it have contributed to a sharp increase in public indebtedness in a large number of countries. While there have been episodes of high debt in the past, there are a number of long-term challenges today that are likely to complicate the implementation of sustainable fiscal policies in the coming years. Population ageing and climate change are factors that are likely to contribute to rising fiscal pressures and the crisis has highlighted the risks and vulnerabilities stemming from reduced fiscal space. This paper argues that heightened fiscal challenges can only be dealt successfully by adopting a long-term fiscal planning horizon. The paper analyzes a range of available policy tools that countries have used in the past to improve fiscal management. [
pdf
].
The Innovation Capacity Index: Factors, Policies, and Institutions Driving Country Innovation
(Chapter 1 in The Innovation for Development Report: 2009-2010, Palgrave Macmillan, 2009)
The relative importance of various drivers of economic growth and prosperity has evolved over time and, for a growing number of countries, innovation, in its many dimensions, is emerging now as a leading factor. This chapter discusses the role of innovation in enhancing the development process. In particular, it features the Innovation Capacity Index, a methodological tool that examines a broad array of factors, policies, and institutions that have a bearing on strengthening innovation in a large number of countries, including their institutional environment, their human capital endowment, the presence of social inclusion, the regulatory and legal framework, the infrastructure for research and development, and the adoption and use of information and communication technologies, among others. The primary aim is to offer a didactic tool for policy dialogue on various dimensions of innovation. As will be shown, the methodologies developed allow the formulation of policy prescriptions that are country-specific, based on a nation's stage of development, and the nature of its political regime. [
pdf
].
Women's Empowerment: Measuring the Global Gender Gap
(World Economic Forum and Harvard Business Review, 2005)
This study is a first attempt by the World Economic Forum to assess the current size of the gender gap by measuring the extent to which women in 58 countries have achieved equality with men in five critical areas: economic participation, economic opportunity, political empowerment, educational attainment, and health and well-being. Countries that do not capitalize on the full potential of one half of their societies are misallocating their human resources and undermining their competitive potential. Consolidating publicly available data from international organizations, national statistics and unique survey data from the World Economic Forum's Executive Opinion Survey, the study assesses the status accorded to women in a broad range of countries. [
pdf
]. [
pdf
].
---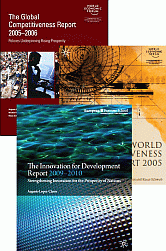 Below are links to selected papers published in various textbooks, journals, and reports.
---
---
---
Toward Gender Equality
Women's Empowerment: Measuring the Global Gender Gap (with Saadia Zahidi, World Economic Forum, 2005) – [pdf]
United Nations Commission on the Status of Women: Financing for Gender Equality–High Level Round Table (52nd Session, 25 February 2008) – [pdf]
United Nations Commission on the Status of Women: Financing for Gender Equality–The Empowerment of Women (52nd Session, 28 February 2008) – [pdf]
---
---
World Economic Forum Competitiveness Reports & Reviews
---
The Humanitarian Response Index
In 2003, the international donor community resolved to strengthen its response to humanitarian crises and undertook to enhance effectiveness, efficiency and accountability of their humanitarian action by endorsing the Stockholm Principles and Good Practice of Humanitarian Donorship. These spell out the principles that should guide humanitarian action, namely humanity, impartiality, neutrality and independence, as well as those imbedded in the body of international human rights and humanitarian law. Since then, there has been considerable interest within the donor community in indicators that can track progress towards the Stockholm Principles. Three years ago the Good Humanitarian Donorship's informal Implementation Group began work to develop a set of indicators that could monitor how donors are collectively delivering against some of their commitments. While this process is encouraging, the lack of comprehensive impact indicators for measuring individual donor performance continues to be identified by the donor community as an outstanding challenge.
As an independent, not-for-profit organization, DARA has embarked on creating its Humanitarian Response Index (HRI) that will measure how well individual donors and adherents to the Stockholm Principles are living up to their commitments. The HRI is intended to help the international humanitarian donor community to better understand its strengths and weaknesses in order, ultimately, to improve its ability to alleviate human suffering in crisis situations through improved humanitarian aid delivery.
An international benchmarking mechanism such as the HRI would be an effective instrument to complement the voluntary and non-binding commitment donors have made to the GHD Principles. Other policy areas, such as the environment, have seen greatly improved policy outcomes coinciding with the introduction of benchmarking which has contributed to improve efficiency and correct deficiencies in the policy framework through public and peer pressure. The first edition of the HRI is published by Palgrave Macmillan and was formally launched at the Royal Society of Arts in London on 29 November 2007. Augusto Lopez-Claros is co-editor of the Report.
---
International Monetary Convention Project
The Asian financial crises in the late 1990s, the Russian meltdown in the summer of 1998, and the collapse in Argentina and Turkey earlier this decade raise fundamental questions about the resilience of the international financial system and its ability to cope with the next crash. Does the international economy have the appropriate institutions and institutional mechanisms in place to deal with emerging crises? What are the benefits and costs of our present approach to crises management, which involves a considerable degree of improvisation and ad-hoc approaches, and can a case be made for the introduction of more formal arrangements? Could the IMF become a lender of last resort for the global economy and, if not, what are some of the reforms that might make it a more effective crisis manager? There may well be greater consensus today that the international financial system needs to be reformed, but there remain profound disagreements among policy makers and the private sector about how far and deep the reforms should go.
To examine these and related questions, the World Economic Forum and the Reinventing Bretton Woods Committee, in co-operation with selected finance ministries and central banks of G-20 countries, organized during 2004-2006 a series of public-private roundtables on the future of the international monetary system. The International Monetary Convention Project (IMCP) sought to provide input into the deliberations of policy-makers by convening them for informal sessions with some of the world's leading private sector and academic authorities. Some of these roundtables were organized around G-20 meetings, in cooperation with the host government. Each roundtable was supported by research papers written by prominent academics, officials and private sector participants. The book The International Monetary System, the IMF, and the G-20, edited by Richard Samans, Marc Uzan and Augusto Lopez-Claros and published by Palgrave Macmillan in early 2007 is the fruit of those efforts. Below we include summaries of some of the roundtables, covering a representative sample of the central issues debated.
---